Community
Staff at the Centre for Applied Archaeology have a long research history in studying community archaeology in Britain and abroad, and have run several award-winning projects such as the Tameside Archaeological Survey and Dig Manchester. Research on this topic within the Centre has focused upon data gathering, the impact on health and wellbeing, and current practice, furthermore, the Centre has a large archive covering 20 years of community work and a significance regular network giving access to community volunteers and local archaeology societies. We would welcome proposals looking at these themes, but in particular the following topics:
Public responses to community heritage engagement
The impact of community archaeology on social cohesion and inclusion
The role of community archaeology in promoting the archaeology of the recent past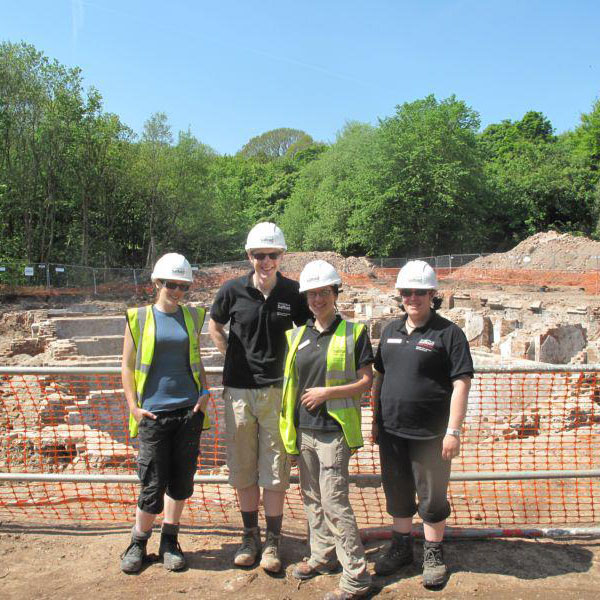 ---
Community Work
Community archaeology comprises of managing and conducting evaluations, excavations, building surveys and all other types of archaeological projects with volunteers of all ages and backgrounds, assisting local heritage and archaeological groups in funding applications as well as assisting with the Greater Manchester Archaeology Advisory Service (GMAAS) in supporting and running the Greater Manchester Federation of Archaeological Societies.
We have a number of community archaeology projects engaging the local and wider community in their heritage and an established project undertaking research on landscape in the Trent Valley spanning multiple years. Follow our work with the University of Salford archaeology blog.
Find out more about the locations and the project and follow the excavations on the Dig Greater Manchester blog.
---
Volunteering
There is a whole world of history buried beneath our feet and the Salford Archaeology is giving you the chance to discover it for yourself.
There are a number of archaeological excavations taking place across Greater Manchester this year and we are looking for an army of history hungry volunteers to help us dig up the past. As well digging up the ground you can also learn about other archaeological techniques such as recording, building surveying and historical research – so there's something for everyone.
You will have the opportunity to meet new people, learn new techniques and make new discoveries! By volunteering on one of our archaeological digs you can give as much or as little time as you are able and you don't need to know anything about archaeology to join in – we just need your enthusiasm and interest!
"I've always been fascinated by local history. I always thought you needed to be a professional to be allowed access to an historic site so getting the chance has been incredible."

Ian West, a volunteer on the Dig Greater Manchester community site at Etherstone Hall, Leigh in March 2012
---
What Happens On A Dig?
Geophysical Surveys
Geophysical surveys are non-intrusive survey methods such as earth resistance and magnetometry. Volunteers will be taught the reasons for using such surveys, how they work and how to complete such surveys.
Other archaeological techniques:
We will also have the opportunity to learn other techniques including: recording, finds processing, graveyard surveys and buildings archaeology.
---
Excavation
Excavation involves the removal of the modern top soils often by hand. This will involve physical labour and healthy outdoor activity. It will then involve systematic in-depth excavation with trowels and small tools.
The archaeology revealed by the excavation will range from things like brick and stone walls and floors to archaeological features such as ditches and pits.
During excavations pieces of material culture (broken pottery and other everyday materials) will be discovered.
Volunteers will be taught all the techniques required to carry out these operations, how to deal with and treat any artefacts and how to interpret what is discovered.
---
Who Can Join in?
Absolutely anyone! Individuals, community groups, local societies and local schools are welcome.
We want people from all walks of life and experience.
---
How Do I Get Involved?
Salford Archaeology
LG 25 Peel Building, University of Salford, Manchester M5 4WT